KAMIAH — A wooden sign in the front entrance of the new Tiny Tots Learning says T'ac eetx papaayn' (welcome) in Nez Perce language. Owners Bobbie Jo and Santee Penney recently celebrated the opening of their new facility at 413 Main Street with an open house on Saturday, Jan. 23, after moving from their 620 7th Street location. The Penneys purchased the building last fall and have worked to customize it, adding a kitchen so they can prepare food. Santee painted the walls in bright colors and artwork to create a fun, inviting space for children.
The Kamiah facility is the second of two centers owned by the Penneys. They opened the first one in Lapwai in 2014 and the Kamiah center in 2018. Penney said she and Santee wanted to have jobs where they could spend time with their younger children.
Bobbie Jo and Santee are both qualified teachers.
"I just finished my master's in elementary education and curriculum," Bobbie Jo said. She said it is a native-owned business; Santee is Nez Perce. She added that all children are welcome. Penney said "We don't want people to think we're just for tribal members; we want to share the culture, language and stories of the Nez Perce people. We want the community to understand where they are. This is an important place culturally."
Penney said they are trying to change from just being a center, to go a little broader to include online and offsite activities. They plan to work more with local Nez Perce language teachers, incorporating the traditional language into their teaching.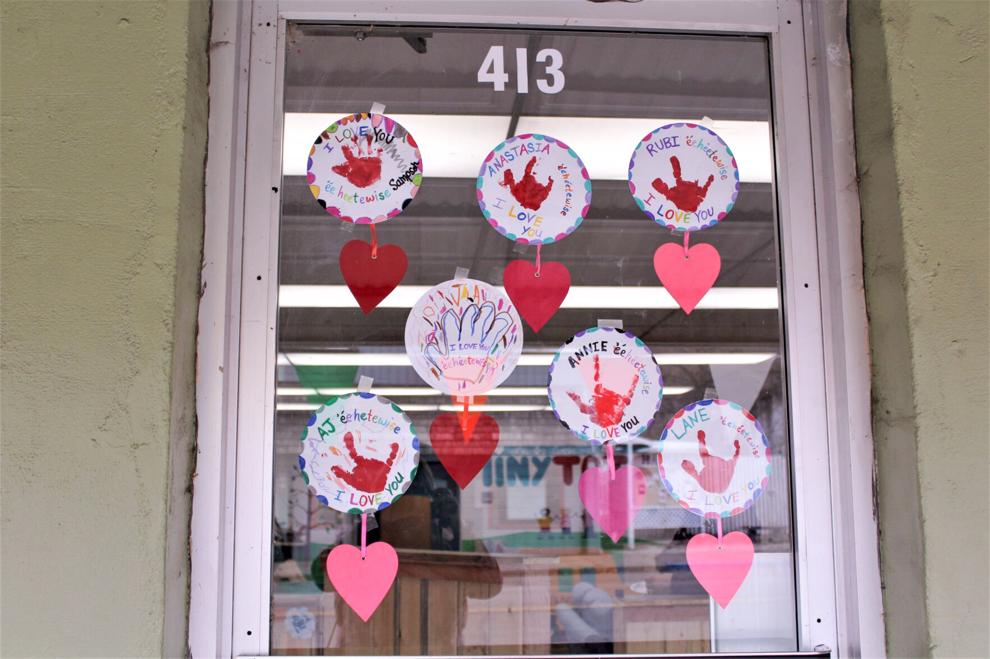 The new larger space provides room for two different classrooms: one for ages 0-2, the other for ages 3-5. They currently have 20 kids enrolled in a half-day or full-day program with normally 10-15 there at a time. (Although they are licensed for 50 kids, Penney does not foresee every having that many in the building at a time.). Penney said in addition to the pre-school option, they have an after-school care for kids ages 6-10 in the larger front room area. Kamiah school students or tribal Head Start students can ride the bus to the center after school. Tiny Tots owns a 12-passenger van that they can use to transport the little ones, also.
She envisions the front room as a place where families feel comfortable spending time with their children, noting they can use the free Wifi and printer while they are there.
Penney said that parking is limited. In addition to dropping off kids out front, there is an entrance from the alley to the back of the building that leads directly to the classroom area.
Penney said one of her older sons, Robert Whitney, a Kamiah High School senior, works at the Teen Center as a member of Youth Advisory Board. With the Teen Center and Tiny Tots in the same block, it is bringing more young people and their families to downtown Kamiah.
Tiny Tots is open Monday-Friday, 7 a.m. to 6 p.m., although they can be flexible and extend hours as needed. For information, look for Tiny Tots Learning Center-Kamiah on Facebook. Contact Penney at 208-935-8587 or bpenney19@gmail.com.