A year ago in December, a state task force report found broadband services greatly lacking for rural Idahoans, with those in District 7 labeled, "the worst in the state."
What a difference a year makes.
Officials in Lewis and Idaho counties recognized the completion of a $1.32 million project by Airbridge Broadband that within less than five months has expanded Internet service to approximately 3,000 unserved residents total, laying the infrastructure to build off to expand further in 2021 and the next five years to increase reach across North Central Idaho.
In presentations last Wednesday, Dec. 30, Airbridge co-owner and founder David McKnight was presented two checks — $850,000 from Idaho County Commissioner Denis Duman, and $470,000 from Lewis County Commissioner Justin McLeod — for the completion of their contract. Project funds came from a total $48.9 million in federal coronavirus relief monies provided to 102 such Gem State projects awarded by the Idaho Department of Commerce (IDOC) last summer. From the first of August, work had to be completed 100 percent by Dec. 15 in order for Airbridge to receive reimbursement.
"The project went really well," said commissioner McLeod. "Due to the area's mountains and terrain, most of our residents don't have good Internet." That deficiency has been made more apparent as through the past year there has been more online demand for those working and doing schooling from home. "So, we're relieved that the CARES [Coronavirus Aid, Relief and Economic Security] money was able to apply to this project and able to help residents."
"We're extremely happy about it," he said.
Under the contract, as per the IDOC, the project was to benefit the communities of Winchester, Craigmont, Nezperce and Reubens (Lewis County); and Keuterville, Greencreek, Clear Creek, Winona, Woodland, Harrisburg, Mt. Idaho, Slate Creek, Riggins and White Bird (Idaho County). Overall, 44 sites were completed between the two counties.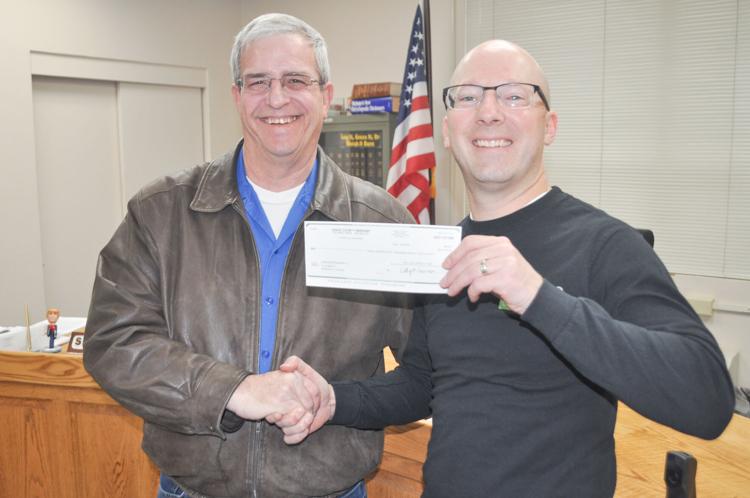 "This grant was very fortuitous as a lot of these sites did not make economic sense to build on their own, " McKnight said, such as, for example, the Slate Creek and Twin Bridges area, that for the amount of population in these areas versus the cost to install sites would be cost prohibitive. Airbridge also exceeded its initial proposal.
"We originally promised Idaho County 22 locations, everywhere from Riggins to Clear Creek, from Keuterville to Greencreek," McKnight said. "A huge area was covered with this proposal, and instead, we actually completed 28 sites." Within Lewis County, 16 sites were completed.
As part of the work, redundancies were built into the connections, providing multiple broadband pathways in the White Bird to Riggins corridor, he explained, so if one site goes down, the whole leg of the network doesn't. More redundancies are planned in 2021 — possibly from Lewiston or Orofino — to ensure service in the event of a fiber feed cut. Also within the White Bird-Riggins corridor, Airbridge will be establishing three hot-spot locations — as yet undetermined — to provide free Internet access as a public service.
"The bigger thing this project is going to allow us to do is build additional sites off these existing sites that allow us to serve more customers," McKnight said.
Within 2021, plans are to expand into the area between Twin Bridges and White Bird, Joseph Plains, up to Syringa and further into the Glenwood area. Expansion into Elk City was delayed due to receiving permissions for Iron Mountain access, and then weather delays, that pushed the work into 2021. Also next year, expansion is planned into Pollock, extending south to encompass the Rapid River and Pinehurst areas.
Whether further funding of this sort will be available is uncertain at this point, according to McKnight, "but because of this grant, it allows us to self-fund future expansion to additional underserved areas."
"The grant was originally intended to help homes; people working from home, to do school work, connect with telehealth," McKnight said, "which this project definitely did, but the side benefit is this greatly benefits business and economic opportunity." One of many examples, a business customer in White Bird, who traditionally had 1mb by 1mb connection has gone to 100mb by 100mb, going from a service that would be down intermittently to a stable connection that allows its patrons to work as well as stream movies. Airbridge itself has brought on three new employees as a result, with more planned as growth increases.
"Lost in the narrative though is this grant doesn't just help one company," he said. "It helps Internet as a whole because anywhere there's competition, it lifts all boats and offerings, and now everyone gets better prices and better services."
Adding to this, McLeod said this project looks to improve with property values in Lewis County, as well as, "making the area more appealing to people having a business here, for those to live here and those to continue to want to live here."
Wireless isn't locked within boundaries, so structures put up in Idaho County can benefit those in Lewis County and vice versa, according to Knight. While Idaho County received 28 sites, it is more accurately receiving service from between 34 to 36 of the 44 towers; and for Lewis County, it is getting benefits of between 20 to 22, more than the 16 it had installed.
"So there's a lot of synergy between the two counties," he said, and they received these grants due to such benefits from adjoining counties.
McLeod concurred, adding, "We were very fortunate Idaho County got a grant also," in that each can be sharing off those overlapping coverage areas. "With this money, we did the buildout together, and Airbridge did a great job in developing redundancy and making a whole grid of Internet rather than an independent line passing through one county."
McLeod said he is encouraged with this expansion to county residents and hopes the publicity will inform those who were without coverage before that this service is available.
McKnight credited the support of CEDA (Clearwater Economic Development Association) for its assistance with this project, as well as its past and continuing work to increase Internet infrastructure in the area. A big player in this also, he said, was Freedom Northwest Credit Union, which provided the loan needed in the short time frame to conduct the project. He said Airbridge had to self-fund the project, only being reimbursed if 100 percent of the project was completed.
"We are very grateful they were willing," McKnight said, as this was a "huge sum of money for a small entity." He continued, "but they are a local credit union who has interest locally, and they were willing to take a risk on a small company like Airbridge."