When Billy and Bonie Monahan, the new owners of Bear Hollow bed and breakfast along the Middle Fork Clearwater River had 330 grapevines to plant, they reached out to their neighbors for help. Roughly 15 people showed up to plant each day of a weekend in June. Upriver neighbor Sunnie Renshaw helped with the planting weekend, including a potluck meal to feed the work crew.
"They (Bonie and Billy) have been a tremendous asset to bring the river community together," Renshaw said.
Although Marcie Gerhardt was away during the grape planting, she enjoyed spending time with Billy's parents, Nanny and Moose, during their six-week stay in Idaho.
"Billy and Bonie brought the grapevines in the RV on the same trip they brought Moose and Nanny to visit," Gerhardt said. About Billy and Bonie, "They have a neat extended family…. They are friendly and helpful people," so neighbors, including Gerhardt's husband Nick wanted to help plant.
Billy and Bonie, who moved here from southern California after retiring this spring, have spent some time with their new neighbors on their visits to Idaho since they bought the place in 2018. Since both Monahans enjoy drinking wine and Billy had both grown grapes and made wine in California, it made sense to plant a vineyard. He likes the way the straight rows of grapevines look and thinks the vineyard will complement the Wild & Scenic River Corridor.
Monahan talked to the owners of a few local wineries, Colter Creek and Basalt, for advice on growing wine grapes here.
"The climate here is doable. It doesn't get to five degrees, but lows in teens and twenties," said Billy. He learned that the growing season is shorter here, five months versus seven months in southern California, but that's okay with him. Growing grapes is labor intensive, so having more dormant time for the vines leaves more time for other activities. They planted two blocks of grapevines, one of cabernet and one of malbec on either side of the driveway between the house and the hedge along Highway 12.
Concerning the grapes, Monahan said, "They don't require a lot of water, about six gallons per week." Adding "the more they have to work for their water, the better they taste…. A lot of people don't realize that basalt rock in the canyon provides mineral content for the grapes, affecting the flavor of the wine."
Bonie envisions serving complementary glasses of their own local wine to bed and breakfast guests once the vines start producing. The first several years are dedicated to growing the root structure, according to Billy.
The deer have discovered that grape leaves are tasty, so Monahan has fastened green deer netting over the vines for protection. They are now the first vineyard along the Middle Fork and the only lodging in the area with its own vineyard, adding to Bear Hollow's uniqueness, according to Bonie.
The Monahans admit that some people are cautious when they learn the Monahans are from California. Once they get to know people, we get along fine.
"We are not here to change anyone," Bonie said. "We just want to enjoy Idaho, be good neighbors and support our community."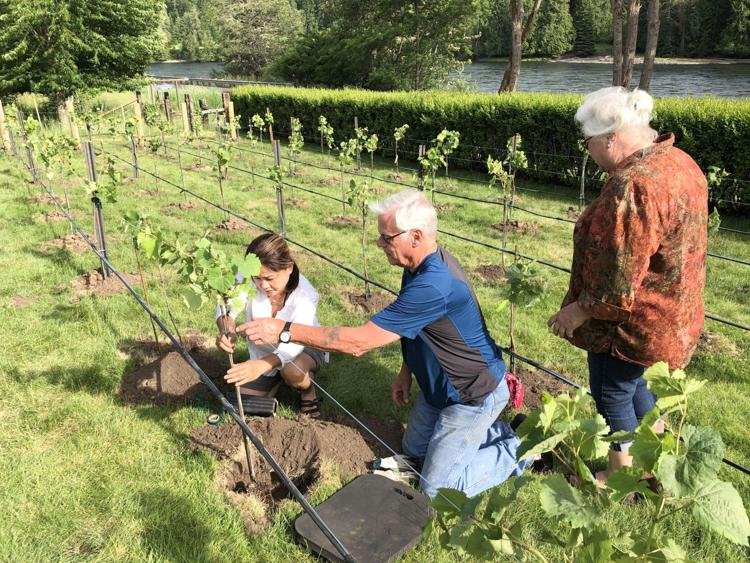 Bonie said, "We pull the community together for social events. We began having several gatherings a year: St. Patricks' Day, Billy's August birthday, and Christmastime." Three months later, Billy proudly reports that all of the vines are still alive, a testament to the high-quality work of the neighbor planting crew. The Monahans are loving living here; Bonie refers to their place as "our little slice of heaven"
Watch for Bear Hollow at milepost 81, along U.S. 12, about seven miles east of Kooskia.