KAMIAH — "The children have been touched by the horses. They are developing a relationship with their horses," said Michelle Sonnen, an early childhood education teacher for the Kamiah School District.
Sonnen is referring to a group of students who are participating in hippo-therapy, supplementing their specialized education goals. Many of the children in the program are diagnosed with autism spectrum disorder (ASD).
"They are smiling, which almost never happened in day-to-day life of an ASD child," continued Sonnen.
The program began in December, thanks to a $9,737 grant funded by the Nez Perce Tribe. Sonnen takes seven to 10 children each Tuesday and Thursday afternoon to Hearts that Heal Riding School (roughly 10 miles from Kamiah) to learn to connect with horses. Students in the program have specialized needs in academic, social-emotional, cognitive or adaptive development. On Tuesdays, a younger group of kids participates, with mostly older students for the Thursday sessions. The sessions will continue for the rest of the school year.
Therapeutic riding also known as "hippotherapy" is any form of therapy that utilizes a horse as a life therapeutic tool, according to Sonnen. Benefits to participating students include improved balance, coordination, muscle tone, range of motion, social interaction, and self-regulation. Sonnen said that some of the participating students have behavioral problems and they need to "earn" their right to horse school each week.
"Four of our boys don't behave well in school, but they will do anything to come here," she said. This gives them more incentive to complete their school work and control their behavior in school.
Jessica Davy, who runs the riding school said she can sense when a child is having a bad day. She encourages them to "leave it at the gate," whatever happened earlier in the day and just focus on the horse while they are at Hearts that Heal. A sign in the arena reads "Two feet move your body, four feet move your soul."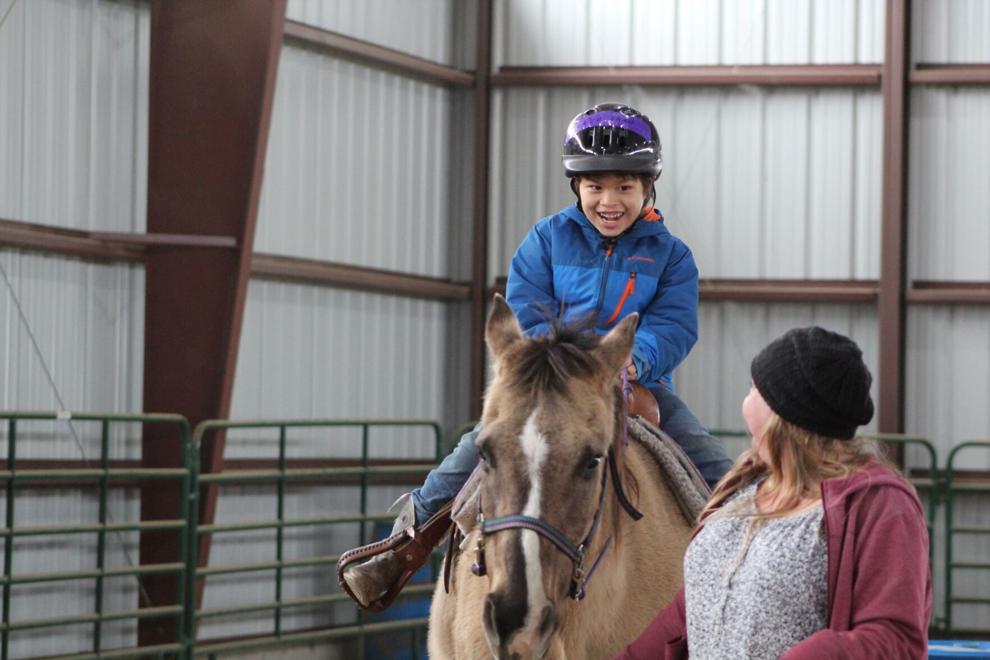 For some of the children, progress is slow because of fear. Sonnen shared that one student, who is autistic, is afraid of heights. After four or five sessions with grooming and leading the horses, most of the kids had progressed to riding. One boy was frustrated and wanted to quit but he kept coming back. Each week, the boy climbed higher on the loading stairs.
"When he finally reached the top of the platform," Sonnen said, "it was a huge celebration. He was smiling and hugging his horse, telling his horse next time he would get to ride!" "She concluded, "The horse celebrates these successes with the kids; they seem to understand and rejoice, too."
The students begin their time at Hearts that Heal, going into their horse's stall, petting, brushing and helping saddle it. Each child then leads his or her horse to the arena for different activities, including leading the horse, with one hand while balancing a small ball on a spoon with the other. When they are ready, the students begin riding, with individualized help from Michelle and other Kamiah school staff, and Riding School staff and volunteers.
Volunteer Jessica Butler exclaimed, "It's an absolute blessing and a privilege to work with these kids."
Jessica Davy began the riding school three years ago with three students, six horses and a round pen.
"I wanted kids to have experience with horses," Davy said.
After organizing as a non-profit (501©(3) she has received generous private donations, allowing her to build a barn and indoor riding arena. Her horse herd has grown to 37 horses, many of them donated. Davy said when she began the school, she envisioned this type of therapy, and is thankful to Sonnen for bringing the Kamiah school children to Hearts that Heal. Davy hopes that other area schools develop similar programs.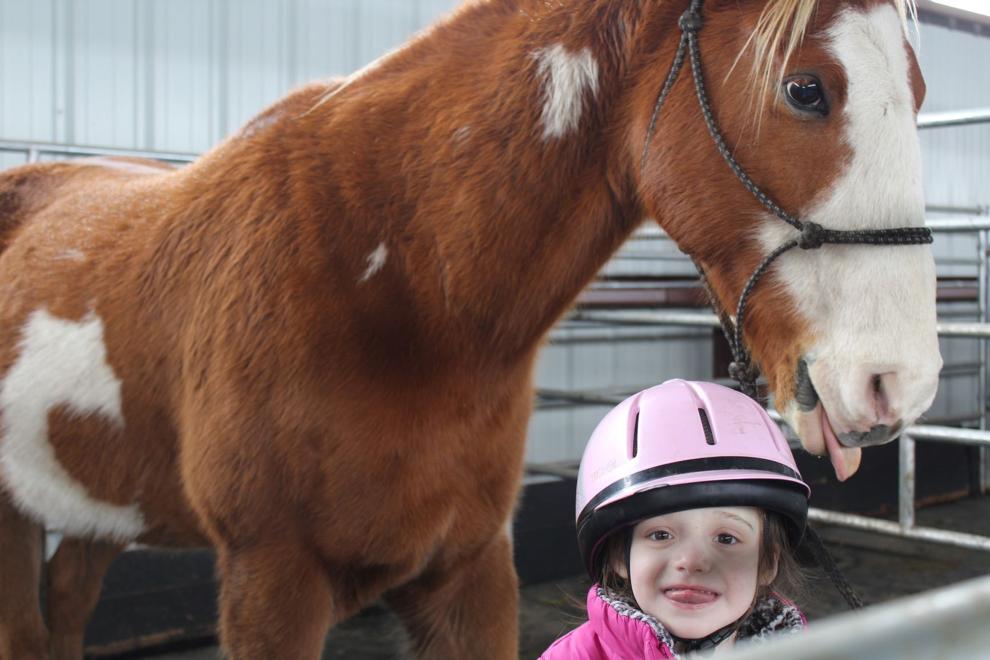 From March-October Davy, her son and a host of volunteers lead open classes for children and adults. To learn more about the school, look for Hearts that Heal Riding School on Facebook or call 208-954-4861.
Sonnen is excited to re-apply for the tribal grant to continue the program next year. She is also working to apply for a grant to insulate and add heating to the riding area and to add a physical therapy room with equipment.