KAMIAH — Shouts of "You got this!" "Motivator," "Just a few more feet," "Hit it harder" and "You're moving it" rang out in the morning air on Saturday, Nov. 14, as new Kamiah Fire/EMS chief, Bill Arsenault, put 11 applicants (one woman and 10 men) through the paces in Kamiah's version of the firefighter combat challenge. Jared Silvas, the first full-time firefighter recently hired to work for Arsenault, said that many of the applicants for the city's firefighter and EMS jobs came from out of the area including Seattle, Idaho Falls, Boise and Colorado.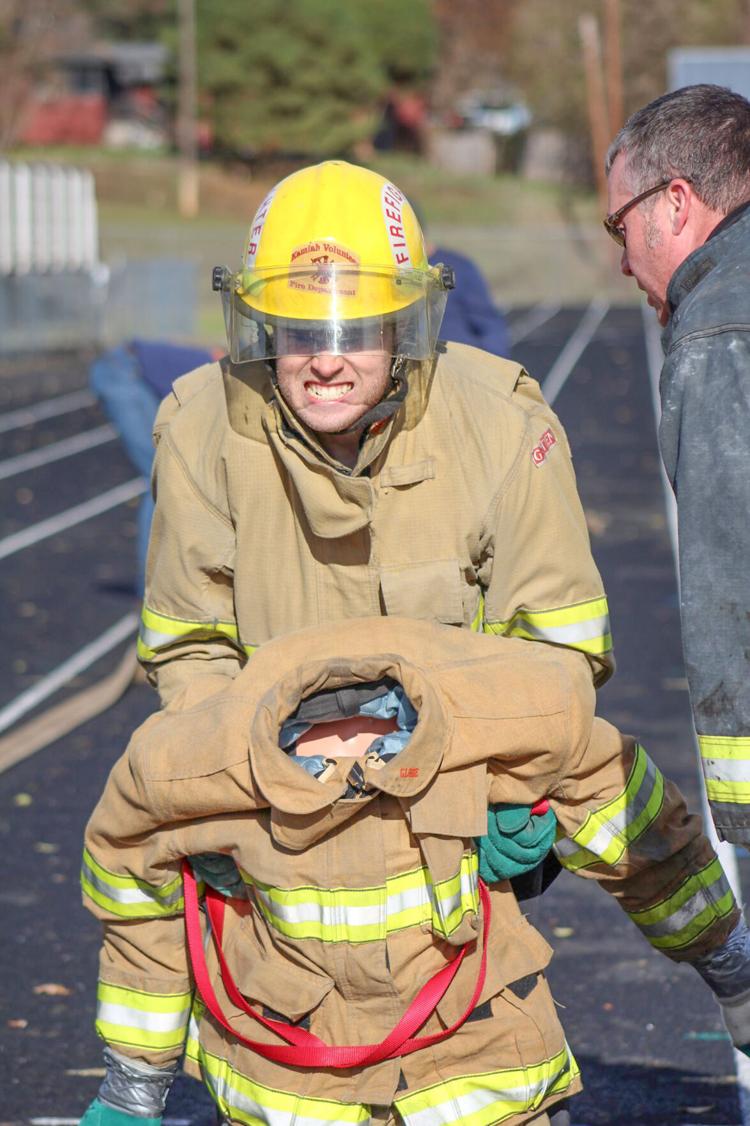 This strenuous physical agility assessment, held at the Kamiah High School track, began with the traditional wildland firefighter pack test — walking three miles in less than 45 minutes with 45 pounds of weight. Arsenault then lined out the six-station challenge which each applicant completed separately while the others watched and encouraged them. City staff and volunteer firefighters/ EMTs assisted with the test.
The challenge began with carrying two fire hoses up and down the bleacher steps, then hoisting a fire hose tied to a rope from the ground straight up to the backside of the bleachers. Continuing back at ground level the applicant then wielded a maul to drive a tire laid flat, 15 feet backwards across the pavement. After weaving through a series of cones on the track, then throwing the nozzle end of a 100-foot-long fire hose over one shoulder, dragging it to its full length along the track, the final stage consisted of lifting a mannequin (dummy) and dragging it backwards for 50 feet.
The physical challenge was the second stage of a three-part test, which began Friday night with a written exam of 50 questions from national standard test of firefighters or EMTs. The evaluation concluded with an interview of each candidate.
"I think it's awesome for them to see where they're at, it gives them a starting point for things to work on," Arsenault said, following the challenge. He added, "It was great to see them push each other, cheer for each other."
Silvas said, "A lot of them hadn't met each other before the weekend and it was great to see the teamwork and camaraderie."
Thoughts from the applicants included, "It's a fair test of what we need to do in our jobs," "I've never had a chief walk beside me while I'm doing a fitness test" and "In other departments I've worked for, the other people stay quiet during the test, don't encourage each other."
Arsenault plans to hire the best of the applicants for several positions with the Fire/EMS group.