KOOSKIA — "I served 10 years in the army; two tours in Iraq. I was shot twice, blown up six times. If it wasn't for this...," said this retired sergeant. At this point he paused, the emotions almost overwhelming him, and then he resumed, "If it wasn't for stuff like this — and my wife — I wouldn't be here. Everything you guys do to help is so greatly appreciated, and I appreciate it."
More than 35 people gathered on Saturday, Oct. 24, outside Big Cedar at Freedom Ranch, a 149-acre property on Tinker Creek Lane overlooking the Middle Fork of the Clearwater River. Developed by organizer Brian Marshall, the site provides military veterans a place to associate with others who have served, hunting at the property for game such as deer and bear.
"But hunting is not why we're here. That's the excuse for us to get together," Marshall said. It's true purpose is in providing support for veterans who are in crisis and at the point of suicide.
According to the 2019 National Veteran Suicide Prevention Annual Report, 45,390 American adults died from suicide in 2017 — the most recent available year of data collection — including 6,139 U.S. veterans. The report stated the number of veteran suicides has exceeded 6,000 every single year between 2008 and 2017, and in 2017, the suicide rate for veterans was 1.5 times the rate for non-veteran adults. In 2005, an average of 86.6 American adults, including veterans, died by suicide daily. In comparison, an average of 124.4 Americans died by suicide daily in 2017, indicating a sharp rise across the country.
This is the fourth year for Freedom Ranch, a 501c3 organization Marshall started to help break the cycle of suicide. His ranch is recommended veterans by word of mouth and prior ranch attendees, and their seven-day experience is funded by Marshall, with help from supporters and donors, to pay for travel, hunting tags, and even boots and bullets to get veterans "out of their comfort zone, sitting at home on the couch where they start going down."
"I'm trying to break that cycle of suicide," Marshall continued, where these veterans can truly relax because, "they know their brothers have their back," a place where the stress and triggers in their lives are absent. From here, these men back up on a positive level, but after time they can be stair-stepping down. Marshall stays in touch with attendees, calling or texting twice a month, to maintain relationships, and support them until they can get to their next support event.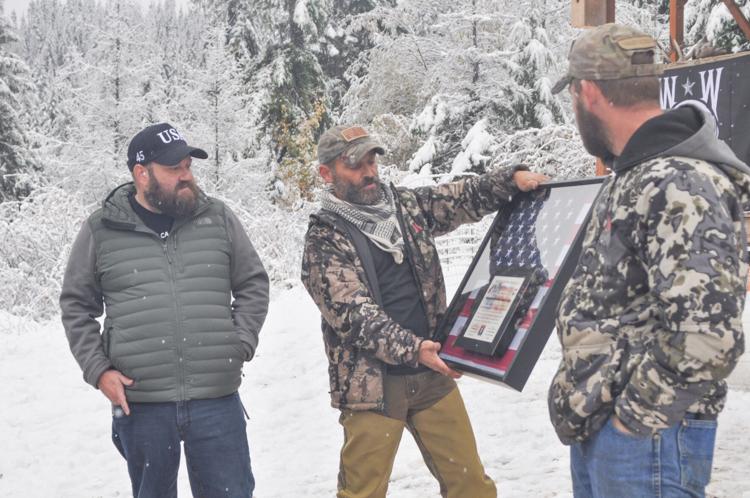 "I've been down that road three times," he said on attempting suicide.
Marshall served nearly 20 years in the U.S. Army, with nine tours between service in Iraq, Afghanistan, Bosnia, Slovenia and Kosovo and in the first gulf war. As an EOD (explosive ordinance disposal) technician, his job was finding the IEDs (improvised explosive device) that were killing American soldiers. He received three Purple Heart medals and went out of the Army on a medical discharge.
"I lived in a hospital for over two years," he said, for care due to a head injury from shrapnel. "I had to learn to speak again, to walk again, everything." Marshall started this effort based on his own positive experience in attending a veterans' hunt years ago; the resulting positive change in his attitude and demeanor noticed by himself and his wife at the time impressed upon him the value of this type of relational therapy.
"It's been a long recovery road for me, but for these guys, every day is recovery," he said. "You've got to stay on top of it, as we'll be this way for the rest of our lives.
That Oct. 24 gathering outside Kooskia was a meet and greet to express appreciation to the ranch's many supporters. Those recognized that day included Cloninger's Marketplace (which has provided groceries and items for bear bait), Big Cedar Homemakers for veterans' quilts, and to Freedom Northwest Credit Union (FNWCU), which last year helped fund a wheelchair-accessible hunting shack and this year provided two ADA-accessible picnic tables for the property.
"I'd been to a couple of their other hunt events, and I got excited about the program," said FNWCU board chair Kevin Steere. The credit union has donated annually to the ranch, "but this year we thought we'd go a little farther than that," and the table idea was a "perfect opportunity," for attendees, he said, so those with disabilities have easy and equal access during events.
Veterans speaking during the event noted their own service, and as well their appreciation for this organization on what it has done for them. One pair was a father and son from Louisiana; the son is a retired combat engineer, out on a medical discharge after six years of service. His self-destructive outlook was turned around for the past three months in anticipation of coming to the ranch, according to Marshall: "It gave him something to look forward to."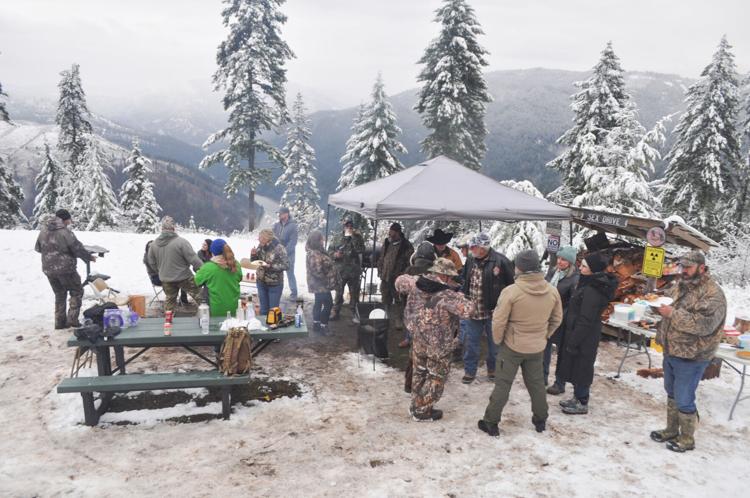 Marshall is retired, "and this is what I do now," he said. He funds this out of his own pocket, and he also receives donations.
"But I can always use more. Last year I took in around $11,000 and I spent almost $38,000, but it's worth it if I can save one and I spent a million."