Twenty years ago, the lives of people in the nation were changed in an instant. The ripples from the terrorist attacks on the United States on Sept. 11, 2001, were felt around the globe.
Nineteen militants associated with the Islamic extremist group al Qaeda hijacked four airplanes and carried out suicide attacks against several targets in America. Two of the planes were flown into the twin towers of the World Trade Center in New York City, a third plane hit the Pentagon just outside Washington, D.C., and the fourth plane crashed in a field in Shanksville, Pa. In all, almost 3,000 people were killed during the 9/11 terrorist attacks, which triggered major U.S. initiatives to combat terrorism under the presidency of George W. Bush.
A variety of areas, which may all seem "normal" now to younger generations, changed drastically including air travel regulations; government (Patriot Act, Homeland Security); architecture regulations (more stairways, better elevators); immigration issues and more.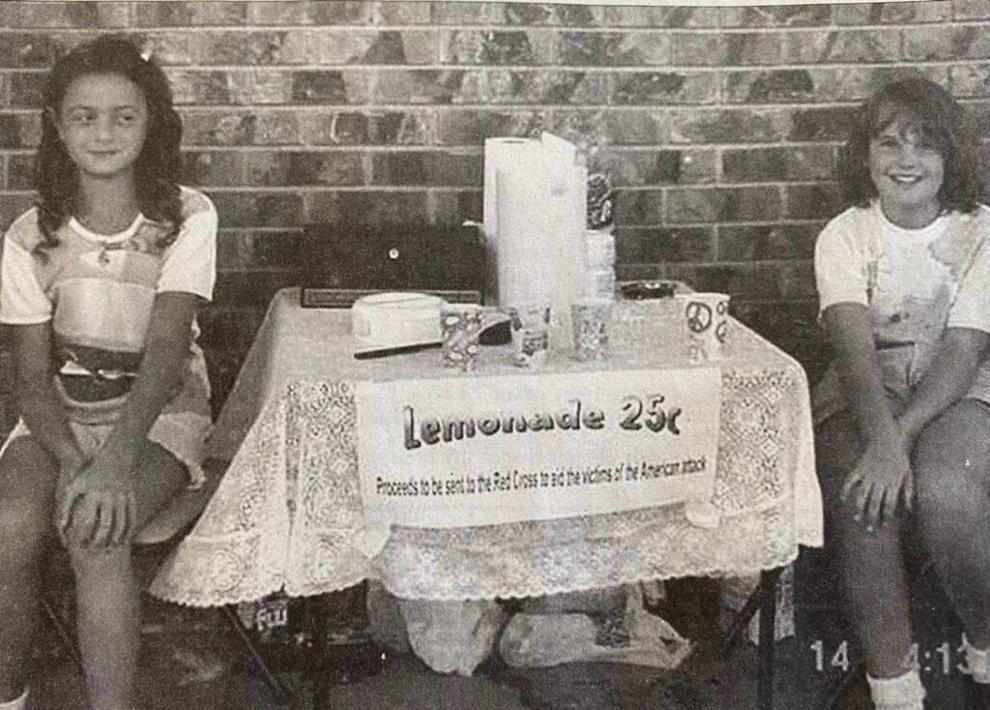 Several of our local readers agreed to answer a few questions about their memories of 9/11. Following are their recollections:
"I think we all watched our nation come together as one nation. We were proud to be American, we loved our neighbors. We watched as the president promised that the persons responsible for one of our darkest days would pay for their actions," said Lewis County Sheriff Jason Davis. "I prayed for those lost and wanted justice for the families of all those who fell that day.
"I stayed home watching the news as long as I could so that I was not late to work. Once I arrived at school and turned on the classroom television, the towers had already collapsed," recalled Kamiah Joint School District 304 Superintendent Dr. Benjamin Merrill, who was a history teacher at the time. "I remember the looks on my first period students' faces as many of them did not know what had occurred when they arrived at school."
"I was still in college at WSU in Pullman and was running my parents heating and electric business while they were away on vacation in Maine," Clearwater Valley Junior-Senior High School science teacher, Kooskia, Kolby Krieger recalled. "They were supposed to leave from Logan Airport that morning. When I first heard about the planes crashing into the towers had come from Logan my heart sank into my shoes. I had to get on the phone with my sister to find out which flight they had been on. Luckily, they were not on that flight."
Grangeville's Homegrown Quilts owner, Jody Hoogland, said, like everyone, she has a vivid memory of 9-11.
"At that time, I had a career at the Idaho Department of Health and Welfare and was working at the Grangeville office. The assistance programs were moving toward self-check-in, among other things they needed to do on their own, and because of that we had a TV in the waiting room," she said. "When we heard what had happened to the first tower, we all — staff and participants — gathered in the waiting room and watched in horror when the second tower came down. It was surreal, and I was in disbelief because as an American, I felt we were stronger than the rest of the world and protected."
"From then on, it has caused me to take another look at the world with real eyes to see that we always must be on our guard in our country," Hoogland stated. "It has also made me step up to take a greater look at who runs for political offices starting with local, state and national, and to take the time to research and put thought and prayer into my voting decisions."
White Bird's Dana (Groom) Greig (formerly of Grangeville) was just a child when the news of Sept. 11, 2011, hit.
"It was the day before my 11th birthday. I was doing my hair getting ready for school when my brother started yelling from the living room, 'the twin towers are falling down!'" she recalled. "At that age I was oblivious to anything not located in Grangeville, so ironically I didn't know what the twin towers were until they were no more. I remember getting to school where they wheeled one of the TV sets into our classroom and we watched coverage of the event all morning. I was terrified, confused, and angry that anyone would do something so terrible."
Greig said between her lifelong love of Border Days ("My favorite holiday — yes more than Christmas.") and this event in her early memories, she has been "very patriotic as long as I can remember. My pride in my roots has shaped my entire life."
Idaho County Disaster Management Coordinator Jerry Zumalt said on the morning of 9/11, he was in a motel room in Redding, Calif., preparing to go to the airport for a National Smokejumper Base inspection with other base managers and some U.S. Forest Service Washington Office Aviation personnel.
"I turned the TV to a news broadcast, and it hit me square in the face," he said. "It took me several moments to process what I was seeing and hearing."
When he arrived at the Redding base, the smokejumper pilots had a TV tuned to a live news broadcast. No one was saying a word, he recalled, they were just watching the footage and listening.
"At some point, I remember going upstairs to the North Zone Dispatch offices and using a phone to call Grangeville Dispatch to see if our retardant and smokejumper aircraft were able to get clearance to fly fire missions," said Zumalt. "A US military jet had just escorted one of our aircraft back to the airport and told him to land and that all civil aircraft were to stay on the ground. The aircraft did receive authorization to fly fires later and were given a discreet frequency to use when airborne. Grangeville was one of the very few airports in the US that had any civilian aircraft missions authorized that day."
Zumalt said the scale and organization of the 9/11 attacks were staggering to him.
"The whole thing was surreal. The immediate and long-lasting human toll was immense. The tragic events of that day culminated in the unified acts of heroism and collective personal sacrifice of the people on board the plane that crashed in the field at Shanksville, Pa., as well as the courageous acts of other Americans," he continued. "They committed themselves to a purpose beyond just themselves and accomplished something of lasting importance for all of us. To accomplish something important, one cannot simply go it alone … words are one thing; but acting together and acting in concert for the good of one's neighbors and country is something else entirely. That is exactly what those folks did for the rest of us that day at the Pentagon, in Pennsylvania, in New York City and elsewhere and it is precisely what is in such short supply today."
"I had stopped at Cash & Carry on my way to work that morning," recalled Idaho County Clerk Kathy Ackerman. "As I was checking out, someone came in and said that an airplane had crashed into the World Trade Center. That was all that was reported, but there was some murmuring among the few of us there along the lines of, 'Hmmm. I wonder what happened? How strange!' I left the grocery store that morning without giving it much more thought than that."
"However, it wasn't long before people began coming into the courthouse with reports that something big had happened. I spent my lunch hour watching the news. It seemed unbelievable," she continued. "As I watched the footage of the towers falling and people running for their lives, I felt an odd kinship with New Yorkers. They were just people too, going about their regular day-to-day business, much like I was. But, how terrible for them! I just felt sick to my stomach most of the day and very sad."
Ackerman said the level of national patriotism that was reborn almost immediately after the tragic events of that day is something she has clung to in the years since 9/11.
"I remember my grandparents talking about World War II and how proud they were to be Americans. That time after 9-11 gave me a similar sense—pride in who we are and where we live and of being the land of opportunity," she said. "I may not have experienced those profound feelings without the heartbreaking devastation of September 11, 2001. I was like most 30-something working mothers 20 years ago, focused on getting kids to activities, getting homework done, and getting meals on the table. That day definitely made me become more attentive to what was happening in our world and in our country."
"The morning of Sept 11, 2001, I was home and had just finished getting my kids breakfast. The phone rang and it was my mother-in-law telling me something awful had happened and to turn on the news.," recalled Janell Arnzen, Grangeville City Treasurer. "When I tuned in, the first airplane had just struck the first tower. The media, at that time, was trying to figure out how such a horrible plane accident had happened. While watching the news live I witnessed the second plane strike the second tower. My first thought was, 'are they confused and replaying the first news footage?' But it immediately became apparent what had happened when the news reporters were scrambling to make sense of what they had all just witnessed, as well. The way they tried to comprehend the enormity of the events while trying to keep their composure to the viewers while reporting live as the whole scene developed will always remain in my memory.
"I wish I could say this historical event changed my life in some way. Witnessing the vulnerability of the USA by having an attack on our own soil did raise my awareness of patriotism, but it didn't change my life."
"[The attacks] happened four days before my wedding, I was at home getting ready for work and doing last minute wedding prep," said Sharlene Johnson, Upriver Youth Leadership Council, Kamiah. "The TV was on in the background as I was working and heard the devastating news. I recall being stuck to the TV watching the news, in shock and disbelief, as all of my out of town relatives and friends called one by one telling me they wouldn't make our wedding because they were afraid to travel. It was a very emotional day for me on many different levels."
"I've always been patriotic, but this event brought a new meaning to this, I'm probably hyper-patriotic now," Jonson said. "I tear and get goosebumps whenever I hear the National Anthem. When I travel I'm super aware of my surroundings, and I don't complain about overbearing security measures anymore."
"Four weeks following the start of my employment with the Idaho Department of Lands. I was at my first customer visit of the day at the Triple R Forest Products log yard at Kamiah," said Stites Mayor Gerry Cathey. "My supervisor contacted me that mid- morning, Pacific time and told me of the attack. I viewed images of passenger planes flying into the Towers and their subsequent collapse that evening on the news and the large loss of human life. Prior to the attack on America, we were at least insulated from our enemies outside of the U.S. border. Since then life has changed to include that the same could happen again, perhaps on a larger scale using a different method. America will remain strong."
"I remember September 11th vividly and it continues to generate sadness each year," recalled Kids Klub Executive Director Cindy Godfrey. "Our daughter, Tessa, was nearly 2, and the newsflash came across the television about the airplane crashing into one of the towers. I was in shock, the newscasters were in shock, it didn't make sense...why had a plane crashed into one of the towers? Then, as I watched another plane come into view, the newscaster stated that it must be a firefighting plane trying to put out the first crash. It took my breath away as I witnessed it crash into the center of the other tower.
"At first I was confused by the actions that I was witnessing but within a few minutes we knew the cause. I looked at our baby girl with tears in my eyes, held her tight and worried for her future. Would there be another world war? What would this mean for our country?" Godfrey wondered. "As I look back on this incredibly terrifying day, I am reminded that tomorrow is never promised and never waste an opportunity to tell someone you love them. I am also reminded of my pride of being an American and gratefulness for our many heroes that have made sacrifices to keep us free."
Law enforcement reflections on 9/11:
Idaho County Sheriff Doug Ulmer
"I was driving home from Spokane when the news reported the first plane had hit the World Trade Center, and I remembered thinking how sad and tragic the loss of life must be. When the report of the second plane hitting the second tower came in and it possibly being a terrorist attack, followed by the Pentagon and the final plane in Shankesville, I remember feeling sad, somewhat scared, but most of all, helpless.
"As the day progressed, I began to become angry over the massive loss of life. I also began to feel a sense of patriotism as everyone across the country began to come together doing whatever possible to help out their fellow man.
"It changed my life in a way that I never take anything for granted. I strive to be happy and make those around me happy every day. I try to be helpful because you never know what someone else is really going through, but mostly I try to live each day better than the day before."
Cottonwood Police Chief Terry Cochran
"When the attacks happened, I was a member of the 907th Engineer Detachment (firefighting), US Army Reserves. I was in Seattle, Wash., preparing to give a briefing to the commanding general about the readiness of my unit. I was in my motel room with the TV on, and saw the planes hit the towers. Immediately I called my wife and had her turn on the television to see what was going on. Obviously, there was extreme concern within the military, resulting in me being held over in Seattle for three days before being allowed to leave. I had flown over, leaving my car parked in Lewiston. My wife received multiple calls from Lewiston PD stating that the car had to be moved farther away from the terminal building.
"After three days, I was allowed to leave and return home; however, walking through SEATAC airport, it was absolutely abandoned. I was able to get a rental car and drive home, but at Lewiston had to simply leave the keys in a drop box, as no one was there, either.
"This event drastically changed my life. Two years later, 2003, I worked to prepare two separate crews from my unit to deploy with other firefighting units headed overseas. As the firefighting community within the Army is quite small, I had friends in each unit that were preparing to head to Iraq, and my unit did whatever it took to assist them. In 2004, it was our turn. My unit deployed to the desert with a headquarters team and three firefighting teams. We fell in on equipment left in place by other units and would spend a year in the desert providing firefighting support across both Kuwait and Iraq. We developed new techniques and skills to accomplish the missions needed, scrounged whatever metal we could to bolt onto the side of fire engines to add some protection from bullets, and provided safety to tent style base camps in more than 140-degree weather, extrication response to the surrounding roadways and aircraft crash rescue support for helicopters operating in our area.
"However, I feel the biggest change in my life, was my family. My kids no longer fit in the vehicle we had ... but how could they have grown so quickly? My wife kept everything together here, so that I could focus on what needed done and keep my guys safe there, and she did one hell of a job! We had deaths in the family which I could only attend via phone, had assorted normal family emergencies that tend to develop, and she not only dealt with everything, but also refused to allow the issues here to be presented as issues to me. She is the rock that maintained stability.
"Two things really stick out to me: The first was having one of my soldier's grandmother beg me to guarantee that her 19-year-old grandson would be safe and return unharmed. I couldn't, and he didn't; however, it was minor injuries, and she was pleased he was being sent home. The other was telling my then 10-year-old son, "You are the man of the house now." That is a comment that I now regret, and even though he has done wonderful things and is currently in the Army, I look back and often wonder what weight that put on a 10-year-old boy."
Lewis County Sheriff Jason Davis
"I was inside an Albertson's market when I heard of the attack. I was in shock. My heart sank as I watched the first responders and civilians coming out of the smoke and dust covered in ash. The day was a normal day until I saw the news playing on the TV at the Albertson's. Then the videos of the planes impacting the towers played. I was furious. I knew then it was intentional as the second plane hit. I recall looking around at others watching the news and could see the pain in their eyes as tears fell. Some embraced. I recall the shock, anger, pain and disbelief running through my emotions in no particular order.
"As the day went on, the news of the number of casualties kept getting larger. I recall wanting to be with the people helping. But we couldn't. They grounded all aircraft. And after all it was unrealistic for me to travel there. I considered ways that I could help, enlist, act local, or commit myself to be a public servant. Obviously, that happened.
"I think we all watched our nation come together as one nation. We were proud to be American, we loved our neighbors. We watched as the president promised that the persons responsible for one of our darkest days would pay for their actions. I prayed for those lost and wanted justice for the families of all those who fell that day.
"I believe that when the towers fell, it changed me for all time. I didn't want it to happen again even on the smallest scale. Sept. 11, 2001, was the darkest day in so many Americans' lives. But there was light that glowed from the American people. We came together as one and promised that 'We Would Never Forget.' And I for one will never forget.'
Kamiah Fire Chief Bill Arsenault
"I had gotten up that morning and was getting ready for my part-time employment at the Bureau of Land Management-Boise District Fire Program, located in Boise, ID as a wildland firefighter. I had gotten to the BLM Yard, as we called it, and was just walking into the ready room for daily briefing which was around 9 a.m., and the TV was on," recalled Kamiah Fire Chief Bill Arsenault. "At that point it was just a few of us in there as regular roll-call didn't start until 930, but I always like to be early.
"As the TV came on, there is instant live news feed into what was happening. The attack happened at 8:46 a.m. New York time, which was three hours ahead of mountain time. So when the original story broke, most Idahoans were still in bed. And most were probably not aware completely of what was happening. But I will forever remember when Rosie Thomas, the fire management officer of the Boise District, walked in and said some things that I will also forever remember," he continued. She said, 'All aircraft is being immediately directed to land. This includes firefighting aircraft. We are on our own. Any fires we go on, will have an immediate law enforcement assist with us. Our country is going through something right now and I don't know all the details like many of you don't … but it's bad, so head on a swivel."
"That day, after watching the TV for a couple of hours seeing what was happening, Rosie came into the ready room and said to all of us, 'Fire apparatus checks still need done, and fire gear still needs checked,'" Arsenault said. "It was the hardest thing that day for me to do, was walk away from the TV and not continue to watch it all. I knew at that point, we were going to war. War somewhere, War somehow … I, like most still were in shock. I felt so angry. So confused. And so lost. Where had our country's leadership missed something?"
"During the next few days as I went back to my primary career, as a paramedic at Ada County Paramedics, so much stuff started to change for us. It was a lot all at once. Locking ambulances all the time. Anthrax scares and white powder calls galore. More protective of each other on calls and one thing started to change in the community. lags were starting to pop up everywhere. Everywhere. But one thing also started to really change. Americans hearts. Willing to help one another, but also angry for what was to come. War. People who sought to hurt our country," Arsenault told.
"I remember reading somewhere that American flags where flying off the shelves and yet the year before, decline in sales. The whole thing…the whole thing is, it breaks my heart. It tore a piece of me, like many others we don't get back. For some it instigated the fact we needed to be better Americans. But also caused a fire in me. Watching all the men from FDNY die -- 343 fellow firefighters who will never get to see their families again. Who will never get to watch a ball game with their kid. Go on a vacation. Live life as everyone else did. But maybe in a small way, while tragic their loss, it has not been in vain," he said.